From the Bottom Up!
From time to time our fleet of carriages is upgraded with a newly out-shopped and gleaming car. At first glance you might say "that looks nice" and take it for granted that someone did their job well. Beauty and strength however is much more than skin deep as Daryl Simon and Fred Valstar will attest if you can corner them and ask a few leading questions. Daryl and Fred are the key members of the Mt Barker Depot carriage restoration team and a car is out-shopped only after the thorough and rigorous overhaul/improvement of all of its component parts is complete to Daryl and Fred's satisfaction.
At ground level. The items to be looked at are the two bogie units. Bolsters must be in top shape, pivot pins renewed where necessary and brake rigging thoroughly overhauled and modified to accept commercially available brake blocks. Incidentally, if you are observant you will note that in the floor of each overhauled car is a screwed panel which when removed allows the pivot pin to be pulled - this enables future removal of bogies without having to jack to carriage halfway to heaven (clever thinking!).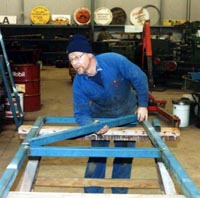 The underframe then comes under review with crack tests on the trunnion and repairs/reconstruction to the point that sagging end-frames sag no more, and the couplings at each end are true and level with their package assemblies in working order again - just like Mr Bagshaw made them back about 100 years ago. No slack or slop here!
Now the carriage itself. After many decades of movement and weather, the woodwork in general has seen better days; so most of it comes off. Stripped bare (left) , it looks like a house before cladding, as the framework is invariably rotten in vital areas and rather rickety.
So steel cross bracing and corner angles are fashioned from flat bar by Daryl (above) , angle iron, and square steel tubing as appropriate and by the time this is all installed the frame is in an acceptably rigid shape. This thought and effort is put into every item right to the top of the roof which is waterproofed, preferably with fibreglass.

Cladding.
Steel sheet is used extensively, with joints carefully sealed, in order to keep water out of all the places where rot had previously done its worst.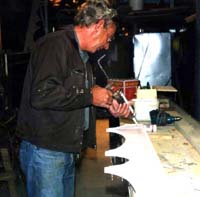 Then Fred turns to his carriage building skills to re-create the heritage facade.
New car floors are fitted, with close attention to guarantee flatness, rot resistance, and strength. Linoleum or vinyl is laid and sealed and timbers are oiled appropriately.

Windows receive careful attention so that they slide easily, and innovative SteamRanger designed drop-down safety stops are installed so that no-one inadvertently jams their fingers. Seats are repaired or recovered and installed, and fittings and labels complete the job.



| | | |
| --- | --- | --- |
| | Finally the paint work is attacked by Daryl (looking like a spaceman) along with Rex Hoppo (right). Rex is a retired commercial painter who has painted everything from milk floats to wheat silos in his lifetime. The result is a job sprayed or brushed to perfection! | |
So there you have it, thousands of hours of thought, planning, and plain hard work so that all you have to do is sit and enjoy the passing scenery, and hopefully admire your stately surroundings!



Based on a contribution by Bob Sexton to June 2005 "Catchpoint"