Wooden Passenger Cars
Length 52ft to 56ft (dependant upon class)
Overall height 13ft 6ins
Width 10ft to 10ft 6 ins (dependant upon class)
Weight 27 ton
Tare weight 31 ton (loaded)
These cars commenced service as suburban cars on the SAR. The cars were first constructed as either first class, second class or second class/ baggage cars, These were the most numerous class of cars of a uniform design operated by the S.A.Railways. A total of 35 first, 68 second and 27 second/baggage cars were built. The cars were initially designed to match the cars built in 1908 for and and subsequently taken over from the Glenelg Railway Co. The first of the S.A.R. built cars entered service in May 1912 and the last of the cars entered service in 1923. Bodywork was by Islington workshops, A. Pengelley and Co of Edwardstown and Holden Motor Body Builders.
As built, the cars varied little between first and second class. Interior fittings were painted in the second class cars whilst in the first class cars they were plated and mirrors were placed on the panels between the seats. The original rattan seats were replaced from 1938 - the last one being replaced in the early 1950's.
Various modifications were made to the cars over the years including the fitting of automatic couplings between 1934 and 1938. The first class were eventually reclassified to second class but not before two cars were fitted out as first/second class for use on the GlanvIlle - Outer Harbor line.
Two major internal modifications were made to the original design, as described below, and examples of all three variants have been preserved by SteamRanger. The cars, together with the 80 class baggage cars are colloquially referred to by SteamRanger as Centenary Cars




Three Different Car Designs
The cars fall into three different design classes. In the following descriptions the current SteamRanger car number is followed by original SAR numbering in brackets


"70" series cars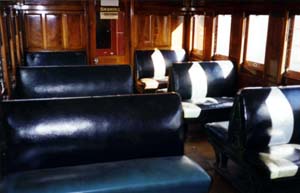 After the first 50 cars were built it was decided to reduce the width by 6 inches to meet increased suburban platform widths and to increase the length of the cars from 52ft to 56ft. A centre open vestibule was added to divide the car into two open compartments and to allow loading at three points in suburban service. The cars have no step down facilities or washrooms and toilets as these facilities were not needed in suburban service
SteamRanger intends to return these cars to their historic role by using them to form the regular consist on its intensive Cockle Train service, particularly during school holiday periods.
Seating is provided for 76 passengers on two and three seat benches without headrests or overhead luggage racks as shown in the photograph.
The following cars have been retained

70 (432), 71 (434), 73 (484)
Progressive restoration of the cars over the last 20 years has been assisted by an SA Tourism Commission grant.

"50" series cars
To mark the State's centenary in 1936 it was decided to operate a train called the "Centenary Limited". Five cars of the early wide bodied "Glenelg" cars were altered internally to provide seating for 59 passengers in (mainly) four seat semi enclosed compartments, with tranverse luggage racks above the seats supported on the dividing partitions.
Step down facilities and a single combined toilet/washroom were fitted. As the cars were upgraded they were painted hawthorn green and cream, the colour scheme that they carry today. Additional cars were upgraded later.
The following cars are retained by SteamRanger

52 (267), 53 (364), 54 (366), 56 (375)
Car 56 is at present the only servicable car
The remaining cars require significant repairs to the body (52) and the underframes (53 & 54)



"60" series cars
A number of cars of the narrower and longer body design were also modified to a similar semi-compartment design by deletion of the centre vestibule and incorporation of a separate washroom and toilet on either side of the centre aisle, together with step down facilities.
The following cars have been retained

60 (317), 61 (326), 62 (338), 66 (452)
Car 65 (345) has been retained unservicable





Car 56 and the four operational 60 class cars form the core consist for trains from Mt Barker to Strathalbyn and Victor Harbor. At busy times one or more 50 or 60 class cars may be used on Cockle Train services to supplement the 70 class consist.







"80" series baggage cars



During 1953/54 some of the suburban baggage cars were altered to allow for longitudinal seats in one end to cater for the large number of prams and pushers being carried in the suburban area.

These cars became known as "perambulator baggages".

Cars 81 and 83 have been further modified by SteamRanger by the inclusion of a buffet in the baggage section as shown in the photograph. Car 82 retains the interior layout as originally in service.






The following cars are retained by SteamRanger
81 (412), 82, 83 (428)


Car 83 was extensively rebuilt in the late 2000's and is currently used on Cockle Train services. Car 82 is nearing the completion of an extensive restoration and should be available for traffic very soon. Car 81 needs substantial rebuilding



<! -------------------------- STEEL CARS DETAILS --------------------------------------->


Steel Passenger Carriages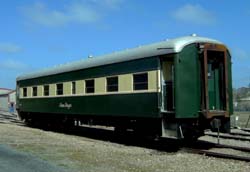 Length 71ft 5ins (500 & 600 class)
62ft 5ins (700 class)
Width 10ft
Weight 45 ton (500 & 600 class),
39 ton (700 class)
Passenger capacity
500 - 42 first class
600 - 64 economy
700 - 56 economy
In 1923 the S.A.R. issued specifications for a main line passenger car, the contract calling for the construction of 13 first, 28 second class, 8 baggage cars, 1 dining car and 2 cafe cars.
lslington commenced construction in 1936 and between then and 1942 outshopped four 500 class, eight 600 class, eighteen 700 class, four 750 class composite centre aisle first/second class cars and four 780 class aisle first class cars. The interior of each car was fitted with polished timber panelling and chrome fittings.
In regular service the "steel cars" as they became known, worked to Terowie (later Peterborough). Port Pirie, Tailem Bend and Mt. Gambier with some use on the Victor Harbor line. In later years they could be seen on limited mixed services to Barmera.

Following the gradual withdrawal of suburban wooden bodied cars, steel cars were used for a short period on the Mitcham to Islington Works trains and in the late 1970's they were also used on a morning and evening Outer Harbor service to overcome a major railcar shortage. Some cars were converted to Standard Gauge for use on transcontinental trains.
SteamRanger has retained first class side corridor car 503, economy class side corridor cars 602 and second class centre aisle cars 701, 704, 706, and 710. The majority of the remaining cars have been sold to other operators (in SA or interstate) . SteamRanger cars operate under their original AN numbers.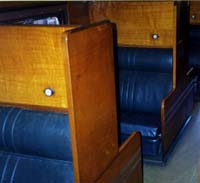 Car 503 (left photo) seats 42 passengers in seven individual compartments, face to face with individually seat cushions, mirrors and fold-down armrests. There are toilet/washrooms at either end of the car.
The 700 class cars (right) seat 56 passengers in four-passenger open compartments either side of a centre aisle, with toilet and washroom in centre of the car.



Car 602, originally configured similarly to the 500 class car, has been extensively converted by SteamRanger to a operate as a Tavern Car by removal of four compartments and creation of an open lounge area and servery and with provision for a guard.
Cars 503, 602, 704, 706 and 710 are available for traffic, and are used predominantly on special or charter movements. The 700 class cars, particularly, need ongoing maintenance to control deterioration of the steel frames and panelling.
Car 701 is stored awaiting body frame work



<! -------------------------- FINNISS DETAILS --------------------------------------->
Sleeping Car "Finniss"
SteamRanger has also preserved sleeping car "Finniss" , built at the Victorian Railways Newport Workshops and used on the Overland express prior to the steel sleeping cars introduced in the 1950s.
The car, initially named "Wolseley" is 22.8m long, is carried on 6 wheel bogies and was introduced into service in 1907. Based on American designs the car has a clerestory roof, vertically boarded sides and connecting and side doors at either end and, as built, was lavishly decorated externally. Internally the car has nine compartments accessed via a side passageway, each with two lateral fold down sleeping berths, a folding wash basin and clothes cupboards. The car was finished in Art-Nouveau style, with carved panelling, pressed metal ceilings, and ornately decorated frosted glass and lamp pendants.
Finniss and sister car Angas were refurbished by the SAR in 1953, removing or covering much of the ornate decorations and recladding externally with steel panels. The cars were used on the overnight train to Mt. Gambier for about three years. Angas was damaged in a fire at Keith and together with Finniss was withdrawn from service in 1976.
Angas was sold to the Yorke Peninsula Railway Preservation Society in 1995 and has recently taken a new life as heritage accomodation in the Southern Highlands of NSW.


Our photos show a compartment made up as a two person sleeper (above) and the end lounge compartment in sitting mode (left).
The lounge, originally termed a "gentleman's smoking saloon" can accomodate three sitting passengers on a transverse bench seat and four more on loose seats. At night, two sleeping passengers came be accomodated by folding down transverse bunks as in the compartments and installing a privacy curtain.
A toilet is located at the compartment end of the car and a small conductors compartment at this end.
"Finniss" is included in occasional special trains operating between Mt Barker and Victor Harbor and is available for charter.




Composite Brakevan 4420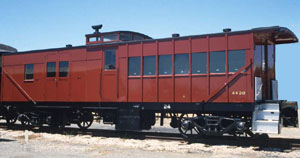 This wooden framed car on a steel underframe was relatively recently built (1955) by the SAR at Islington and provides longitudinal bench seating for 10 passengers in a compartment at one end of the car.
As built, a toilet compartment was included towards the centre of the car and passengers usually entered via an end platform similarly to other wooden passenger cars. The centre of the car housed a guard's seat and desk and cooking facilities with side door access and an interconnecting door to the passenger compartment. A raised central roof section, clearly seen in the photo, with small windows on all sides, allowed the guard to sight along the top of the consist.
The far end of the car houses a goods compartment with double doors on either side and access from the guard's area. There was a transverse externally accessed dog compartment at the end of the car. If the car was attached to trains with other passenger cars it was necessary to ensure the car was turned, if necessary, so that the goods compartment end trailed.


Modifications undertaken by SteamRanger

Commencing in the early 2010s a small team of SteamRanger volunteers, coordinated by past President Ben Greeneklee and supported by members of his family, commenced repairing and rebuilding the car including extensive work on the bogies and other mechanical areas, together with removal of the dogbox, fitting of new seating and installation of an end door to the goods compartment so that the car does not have to be un-neccesarily turned. It is envisaged the car will be invaluable as a brakevan on shorter distance weight limited consists.
Our left photo, from the passenger compartment end, shows the car in an earlier stage of rebuilding with all external panelling removed allowing repairing of the body framing , whilst the right photo shows a group of happy passengers in the car very soon after it re-entered service.


Looking Backwards - A New Life for ex ARHS carriage "ANGAS" as heritage styled tourist accommodation
ARHS Depot- Dec 85 (Chris Drymalik) The car at Wallaroo - 1995 (Paul Quinn)



Built at the VR Newport workshops in Melbourne, wooden bodied sleeping car ANGAS entered VR/SAR Joint Stock service in September 1923. On being fully acquired by the SAR in 1953 the exterior was rebuilt for use on the night train to Mount Gambier.

It was significantly burnt in 1976 while in service on the night train to Mount Gambier and was subsequently purchased by the Australian Railway Historical Society (SA Division) for $500 with the intention of the Society carrying out restoration to match sister car "Finniss" owned by the Society. This never took place and after being stored in less than ideal conditions at the ARHS Dry Creek depot until 1995, it was gifted to the Wallaroo Tourist Railway at Kadina.



In 2011 the car was sold on and transferred to Londonderry, in the NSW Southern Highlands to be restored as B&B style accomodation by Little Forest Country Cottages as shown below.






More details on the restored configuation are available on their website

HERE Above photos from their website




Revised June 2014