Mt Barker Junction
  The brick station here today was built in 1943 and is no longer in use. The main standard gauge line between Melbourne and Adelaide bypasses the platform on the northern side of the yard.You might note that the track alongside the platform at one time had three rails - more of that later!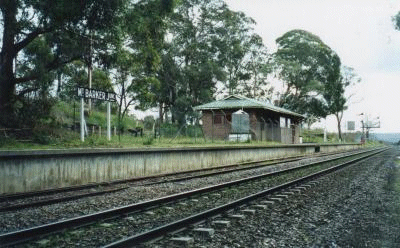 But lets look back in history - click on each of the camera logos
At the turn of the century
the elevated signal box
was a feature

Bluebird Railcars
cross early one Saturday
morning in 1968


The Junction; then was quite a substantial station with an elevated signal box and waiting room on the present platform, a shelter shed on an island platform opposite and a forest of signals on high masts. A turntable and single track engine shed were located on the southern side at the Adelaide end of the yard

The shed was dismantled in 1904 and re-erected at Pinnaroo, whilst the buildings on the main platform were demolished and replaced with today's brick building in 1943. The station was closed and the island platform demolished in the early 1980s.